Explore World Cuisines with our Ethnic Lunch Club
Members of the Ethnic Lunch Club get together on the last Thursday of each month at different locations in Northern Virginia — usually in Arlington, Alexandria, Annandale, Falls Church, and McLean. This includes Shirlington and Bailey's Crossroads. Members are planners, each taking a turn in planning one event, coordinating with a restaurant, and taking reservations.
Ethnic Lunch Club at Osteria da Nino, June 2017
Since January we have enjoyed:
Stuffed cabbage leaves, beef stroganoff, plov, pelmeni and chicken kiev at Rus Uz
Chicken kebobs topped with orchids and mid-Eastern appetizers at Amoos
Pad Thai and drunken noodles at Tara Thai
Tacos, tamals, enchiladas, and fried ice cream at La Union
Southern fried chicken, shrimp and grits, okra, collards, and warm biscuits with honey at Tupelo Honey
Spinach ravioli, cavatelli, and panini at Osteria da Nino
Our next lunches will be Indian in Clarendon, Vietnamese in Falls Church, Irish in Falls Church, and Greek in Alexandria.
We do not meet Thanksgiving week. Our holiday lunch is a combination November-December event–location to be announced.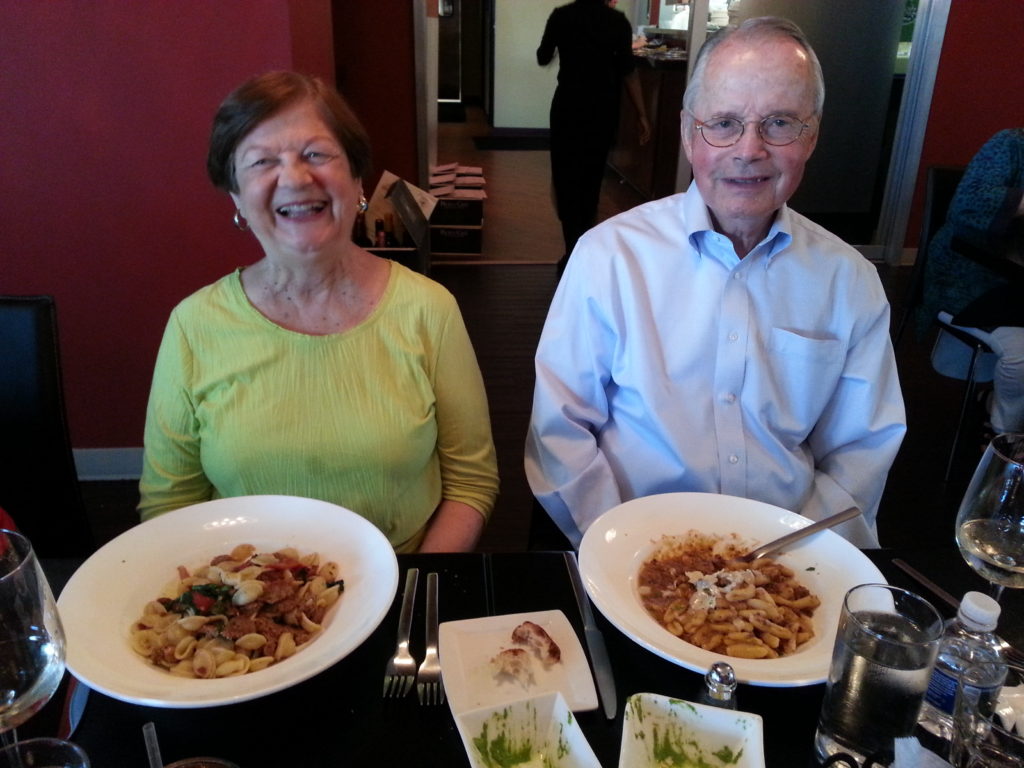 Arlene Kigin and George Ruppert enjoying their pasta!
In 2018, in addition to our Italian, Chinese, and Mid-Eastern favorites we may try to include Mala Tang for Chengdu Hot Pot; To Sok Jip which Tyler Cowen calls "the best Korean place around",(space permitting); a Hawaiian poke (POH-kay) spot; and bento boxes at a Japanese location. If a planner wishes to be even more adventurous, we may also explore local Afghan and Ethiopian options.
— Submitted by Arlene Kigin, Club Coordinator. Photos courtesy of Lee Cooper.