Most Beautiful Thing – Student Essay on Jobim Course Published
Encore Learning member Marilia Mota Silva wrote an essay about her experience in our course on Antonio Carlos Jobim that was published by Digestivo Cultural, an on-line Brazilian journal devoted to Brazilian cultural affairs. A translation of her essay by Instructor Richard Juhnke follows:
Wednesday, 11/13/2019
Most beautiful thing
by Marilia Mota Silva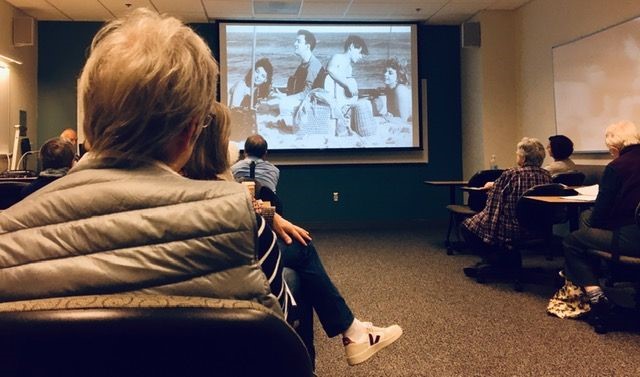 Tom Jobim course at George Mason University in Arlington, Virginia. This is not part of their regular, post-graduate curriculum.  It is part of Encore Learning, "high quality academic" courses, as its webpage informs, aimed at people over 50 who want to devote themselves to the pleasures of study, without aiming for titles and diplomas. 

The menu offered is comprehensive and irresistible: History, Public Policy, Science and Technology, Fine Arts, Philosophy, Literature. It's only two hours a week, so I signed up for several: one on income tax: you better know where you stand; one on Existentialism: sailing dense seas of reading; one about Shakespeare: the structure and technique in three of his comedies. 

In this traditional and sober context, the course on Tom Jobim seemed to me out of place, like a candid smile in a church service. 

I was curious to know what they would have to say about him, bossa nova, Brazil, and if there would be enough people interested in the course. With less than eight enrolled, the course is canceled. 

On the first day, when signing the attendance list, I was glad to see that thirty slots had been filled, and somewhat surprised that the only Brazilian / Latin name was mine. 

We are halfway through the course. For the past few weeks, I've been following Tom, every circumstance of his life, his compositions, his piano, Teresa, his children, friends and partners, João Gilberto, of course, the travels, even the dates and time spent recording certain songs. 

All very interesting and inspiring, but besides that, something unexpected has happened to me when I come home after class. 

I don't walk down the street, as I usually do: I float just above the ground, light and transformed.  A feeling of pride, of Brazilianness takes me by the hand. 

I had forgotten that we were not always like this, as we are today. Our culture, our identity has other soul(s), like the one that bossa nova translated so well. 

The elegance, the good humor, the delicate sensuality, the romanticism without drama, without fussiness. The poetry. 

"The Girl from Ipanema" is the second-most recorded song in the world, after just the Beatles' "Yesterday."  The teacher regrets the translation of the first verse into English. Tom didn't like it either, of course.

"Olha que coisa mais linda!" [Look what a beautiful thing!] turned into "tall and tan and young" – [alta, bronzeada e jovem]: from poetry to commodity. 

It is understood that it is almost impossible to make an ideal version [of a song in another language], but such a detail helps us to better see the taste, the elegance of lyrics of that time. Not to mention the originality of the rhythm, the refined simplicity of the compositions. 

"Tom translated 'Águas de Março' [The Waters of March] using only short words of Anglo-Saxon origin (with three exceptions)," the teacher informs us, andthe attentive class takes note. They also notice his emotion, the trembling in his voice as he reads verses such as: "It's the promise of life in my heart." 

Sinatra, at the height of his career, calling Bar Veloso looking for Tom. Sinatra trying to sing like Tom and João Gilberto.  His comment elicited laughter: "I only sang softer than that when I had laryngitis." 

Saint Jobim.  The atmosphere of the classroom transformed into a cocoon of harmony, of joy.  Bossa nova as a way of being, a philosophy of life. 

Four of the students have bought tickets for Rio. The teacher will go in January.  He will pass in front of Nara Leão's apartment, he says with sparkling eyes, as if speaking of Delphi or the Holy Grail. 

If I had Danuza's email I would let her know that in January there will be a man staring at her window with devout eyes.[[1]] May she not be surprised or afraid: he looks at the past, the poetry, the Brazilian way of looking at life, as it once was half a century ago. 

But if it is a fact that history moves like a pendulum, and today we have reached the opposite extreme of that time, the return is inevitable; perhaps it is already happening and we do not yet realize it. 
Orginally published on Digestivo Cultural.

So be it. 
Marilia Mota Silva
Arlington, VA, 11/13/2019

---
[1] [Translator's note: Danuza is the older sister of Nara Leão, the "muse of bossa nova," and still lives in the apartment facing Copacabana beach where Nara lived as a teenager and which served as the "incubator" for the young people who, together with Tom Jobim and João Gilberto, created the new sound that became bossa nova.]