Save the Date: Spring Course Preview Sat. Feb 2, 2019
SPRING 2019 COURSE PREVIEW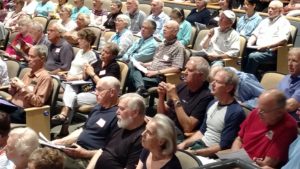 Saturday, February 2, 2019
Doors open at 8:30 a.m.
Program begins at 9:00 a.m.
and ends at Noon
KENMORE MIDDLE SCHOOL
200 S Carlin Springs Rd, Arlington, Virginia 22204
Open to current and prospective members.
Bring friends, relatives and neighbors!
Encore Learning's instructors give brief
presentations about their academic courses.
Members often tell us that the instructors' presentations at the
Course Preview influence their registrations.
Get the latest news on our clubs, special events and volunteer
possibilities along with a quick bite and hot drink.
Call the Encore Learning office at 703-228-2144 for specific directions or any questions.
To become a member or to renew membership, we recommend our website, where you can pay securely with your credit card. If you wish to purchase or renew your membership at the course preview, only personal checks can be accepted.