It's a Small World: Cuba Edition
Marilyn Gaizband and Sam Schaen, and Barb and Steve Spangler were surprised to meet each other in the provincial town of Trinidad, Cuba, in late March.
The four Encore Learning members knew they were traveling in Cuba about the same time on separate tours and even might overlap in Trinidad. But there was no easy way to coordinate meeting as U.S. cell phones don't work in Cuba and each couple's schedule was determined by their respective tour leaders.
As luck would have it, the two couples ran into each other while wandering around the cobblestone streets of Trinidad, a town founded in 1514.
It was a fun meeting showing that Encore Learning connections extend far beyond Northern Virginia.
Sam and Steve are co-chairs of our IT Committee.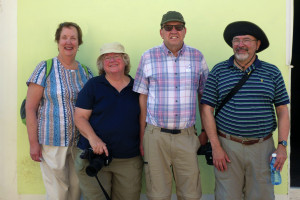 From left to right: Barb Spangler, Marilyn Gaizband, Steve Spangler, Sam Schaen in Trinidad, Cuba (Photo credit: Corey Hilz)