Register now for SPRING courses 
Course registration for our spring semester is underway. See options under QUICK LINKS at right to begin.
Teach, learn, share, grow, explore with others 50+ from the metro area
Encore Learning offers high-quality academic courses, wide-ranging special events, specialty clubs, and enjoyable social activities for anyone over fifty in the metropolitan area.
Encore Learning's daytime non-credit college-level courses require no testing or papers.
Subject areas include the Fine Arts, Theater and Music; Health and Wellness; History; Law, Politics and Public Affairs; Literature and Writing; Science and Technology; and the Social Sciences.
Courses are held during the day at convenient Arlington locations.
The annual membership fee is $55 per individual. Each course costs $45 and requires membership through the course end date.
View the Encore Learning video.
Catch the spirit and join the fun: Volunteer your talents, interests, and support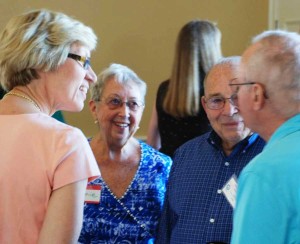 Volunteers and instructors are vital to the operation of Encore Learning.
Bring your energy and interests to a welcoming community.
Find volunteer opportunities that fit your schedule and time constraints.
More details on the Volunteers & Instructors web page.