Important reminder for members
Member Account Manager is now online! Our new system allows you to:
SECURE YOUR SEAT QUICKLY
OPT TO WAITLIST FOR A COURSE
ACCESS YOUR INFORMATION 24/7
Get your new password, practice logging in, and familiarize yourself with the new system well before registration on September 12. Training and assistance are available this summer.
Get step-by-step instructions for accessing your account the first time, as well as how to renew membership. This information is also available in our Fall 2016 Catalog, on pages 25-27. And online are one-page QuickStart Guides for all actions you'll want to take in Member Account Manager.
Fall CouRse Preview Saturday Sept 10
Join us to learn about our academic course offerings for the fall semester. Event Details
teach, learn, share, grow:  explore with others 50+ from the metro area
Encore Learning offers high-quality academic courses, wide-ranging special events, specialty clubs, and enjoyable social activities for anyone over fifty in the metropolitan area.
Encore Learning's daytime non-credit college-level courses require no testing or papers.
Subject areas include the Fine Arts, Theater and Music; Health and Wellness; History; Law, Politics and Public Affairs; Literature and Writing; Science and Technology; and the Social Sciences.
Courses are held during the day at convenient Arlington locations.
The annual membership fee is $55 per individual. Each course costs $45.
View the Encore Learning video.
Catch the spirit and join the fun: Volunteer your talents, interests, and support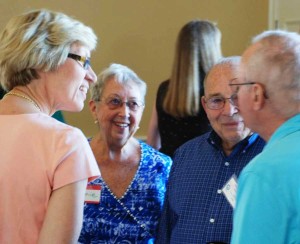 Volunteers and instructors are vital to the operation of Encore Learning.
Bring your energy and interests to a welcoming community.
Find volunteer opportunities that fit your schedule and time constraints.
More details on the Volunteers & Instructors web page.