OFFICE HOURS: Week of january 16, 2017
Our office will be closed Monday, January 16, 2017 in observance of Martin Luther King Day. We will also be closed Friday, January 20, 2017.
Important reminder for members
We have a new renewal process! You may have been waiting for a reminder letter in the mail. With the implementation of our new Member Account Manager system in July 2016, we discontinued mailing paper renewal reminders.
teach, learn, share, grow, explore with others 50+ from the metro area
Encore Learning offers high-quality academic courses, wide-ranging special events, specialty clubs, and enjoyable social activities for anyone over fifty in the metropolitan area.
Encore Learning's daytime non-credit college-level courses require no testing or papers.
Subject areas include the Fine Arts, Theater and Music; Health and Wellness; History; Law, Politics and Public Affairs; Literature and Writing; Science and Technology; and the Social Sciences.
Courses are held during the day at convenient Arlington locations.
The annual membership fee is $55 per individual. Each course costs $45 and requires membership through the course end date.
View the Encore Learning video.
Catch the spirit and join the fun: Volunteer your talents, interests, and support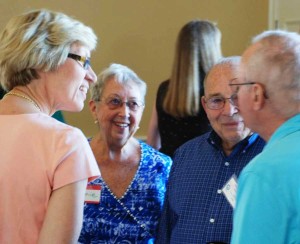 Volunteers and instructors are vital to the operation of Encore Learning.
Bring your energy and interests to a welcoming community.
Find volunteer opportunities that fit your schedule and time constraints.
More details on the Volunteers & Instructors web page.