Due to the pandemic, all of our activities for the upcoming semester will be delivered virtually via Zoom.
• Course Catalog
• Course Registration
• Course Materials (Class Media)
• Zoom Resources
• Instructors
For in-person courses only:
• Inclement Weather & Other Closings
• Visitor Policy
• Class Aides Info
• Classroom Locations Maps, parking, public transportation
---
"Encore Learning provides classes of interest and learning that would be difficult to find otherwise. The community is vibrant and interesting as are the various programs and classes offered." — Ninette Reis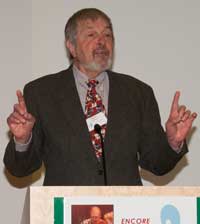 Encore Learning offers a wide variety academic college-level courses to members. Course subjects include Social Sciences, History, Arts and Humanities, Law, Politics and Public Affairs to Science and Engineering or Health and Wellness. Each course costs $55. You must be a member to register for a course. The annual membership fee is $65 and is nonrefundable and nontransferable.
Not yet a member but want to learn more? Join our email list!
Courses are convenient
All classes are held at Arlington locations.
Weekly class sessions are generally 1½ hours between 10:00 am and 3:30 pm, Mondays through Fridays.
Courses run 4 to 10 weeks, as determined by the instructor.
Enrollment must meet a minimum of eight students. Maximum enrollment is determined by the instructor or the room size.
A typical course has 20 to 30 students. Smaller seminars and large classes are offered each semester.
Return to Top
Course Catalog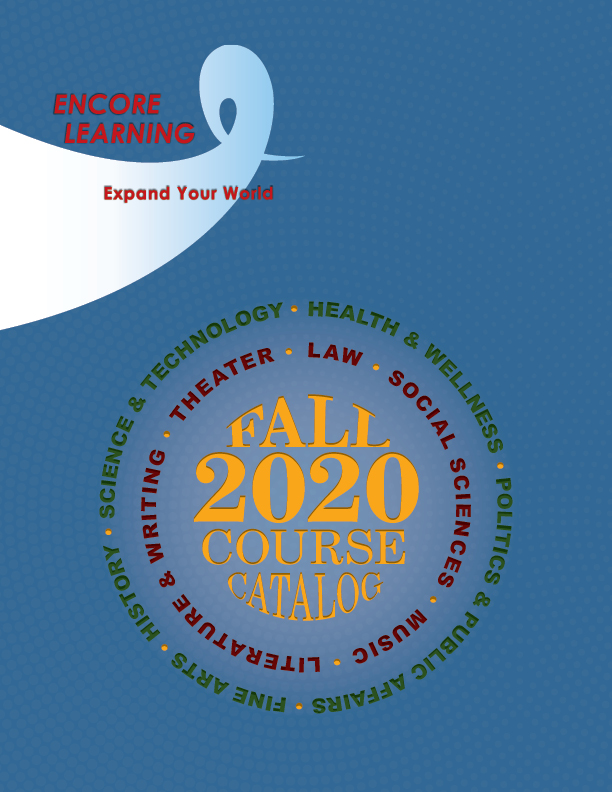 Course Catalog (PDF)
View Instructor Presentations from our Spring 2020 Course Preview
You must be a member to register for a course.
Not yet a member but want to learn more? Join our email list!
Return to Top
Course Registration
Course registration begins approximately one month before classes begin. You must be a member to register for a course.
Register online. It's fast, convenient and secure. You receive instant confirmation of your registration.
Registration Policy and Procedures
Our Registration Policy and Procedures web page includes detailed information on course registration, notification of registration, refunds and transfers, plus course cancellation. You must be a member to register for a course.
Return to Top
INCLEMENT WEATHER POLICY AND OTHER CLOSINGS
If Mason cancels its classes, our classes at their Arlington campus are cancelled. If Mason announces a delayed opening, our classes scheduled to begin after the campus reopens will take place as scheduled. Mason treats all its locations as one.
If Arlington Public Schools (APS) cancels classes, our office is closed and our classes at Fairlington and Arlington Mill Community Centers are cancelled. If they announce a delayed opening, our classes scheduled to begin after APS reopens will take place as scheduled.
If Arlington Central Library is closed, any special event scheduled there is cancelled,
Activities such as special events which meet outside of our host institutions and our clubs do not have hard and fast rules. When in doubt, contact the activity coordinator.
Most institutions make their daily closure/delay decision between 5:00 and 6:oo A.M. and post their decision in bold letters on their home page. To learn the most up-to-date info on our host institutions' decisions regarding delays and closings:
Weather alerts are fluid in nature so please recheck frequently.
Other rare cancellations or postponements because of special circumstances, such as instructor difficulties, will be announced by email in advance of the class whenever possible.
It is always best to use common sense. And keep in mind, if our offices are closed, we won't be there to take your call or your email. If you have an issue, call our main phone line 703-228-2144 and leave us a message. We will contact you as soon as we can.
Return to Top
VISITOR POLICY
Encore Learning's visitor policy is designed to attract new members. Anyone who meets Encore Learning's membership requirements may be allowed to attend a single course session if he/she has never been a member of Encore Learning, and the request to attend a specific session is approved in advance by the Encore Learning Administrator (info@EncoreLearning.net). Criteria include agreement from the instructor and space availability (i.e., no visitors are allowed in courses that have met their maximum enrollment). Note: this policy applies to in-person classes only.
Class Aides
Do your part as a member. Volunteer to be a Class Aide when you register for a class!
What does a Class Aide do?
Serves as interface between instructors, class attendees and Encore Learning staff.
Takes attendance and distributes/collects evaluations.
Sets up, with assistance if needed, any audiovisual equipment needed by instructor.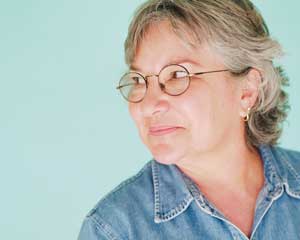 What benefits will I have?
Get free parking while attending the class.
Get to know the instructor and your classmates.
Get to be an integral part of Encore Learning.
Questions about Class Aides?
Contact Encore Learning at Info@EncoreLearning.net or call 703-228-2144 and leave a message.
Instructors
"Classes are wonderful. Most instructors are well prepared and interesting. Fellow classmates are well traveled and intelligent — great class discussions! Enjoy the variety of classes and field trips." — Janet Roberson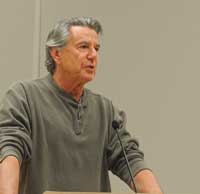 Encore Learning courses are taught by retired and/or working professionals — drawn from government, universities, think tanks, and private industry — who serve as volunteer instructors.
We welcome contact from persons interested in volunteering their services to teach a course in their area of interest and expertise.
Contact Encore Learning at Info@EncoreLearning.net or call 703-228-2144 and leave a message.
Classroom Locations
All locations are in Arlington. See Parking and Public Transportation for information about buses, ARTbus, Metrobus, Metrorail and Metro. Parking costs are the responsibility of the student.
All Encore Learning sites have facilities that meet ADA standards. If a member experiences disability-related difficulties in class participation or has other concerns, he or she should contact the class aide or call the Encore Learning office.
Information about free Wi-Fi access at George Mason University's Arlington campus is available at the information desk in Van Metre Hall.