Bonnie Mangan on Civil War Women: Bibliography to Share
As part of our Meet the Speaker Series, Bonnie Mangan, Vice President of the Society for Civil War Women, spoke at Arlington Central Library on Monday, March 26, on "Civil War Women: Nurses, Soldiers and Spies." It was the fifth lecture co-sponsored by Encore Learning and Arlington Central Library in 2018.
Ms. Mangan shared entertaining tales of a select number of lesser-known women who as abolitionists, campaigners for women's suffrage, volunteer nurses, logistical organizers, disguised soldiers, spies and even spymasters, mobilized support for troops on both sides of the war.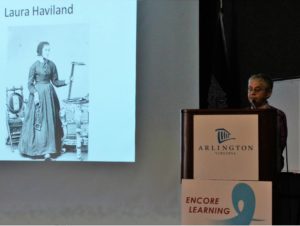 The lecture emphasized their courage and dedication to caring for soldiers, the wounded and dying, as well as civilians, prisoners, and the many slaves caught up in the fighting. They also helped meet the needs of the hundreds of displaced persons, freemen, and slaves. Ms. Mangan's presentation was a lesson for all regarding the often overlooked but extremely critical role that Civil War Women played in the lives of thousands.
Ms. Mangan based her talk on her in-depth research into the many letters and memoirs written by these exceptional women, particularly Sophronia E. Buckling, Laura S. Havilland, Harriet Jacobs, and Sojourner Truth. She also prepared a Selected Bibliography for those interested in reading more about these outstanding women.
Bonnie Mangan Bibliography Women in the Civil War